Productivity | 5 min read
3 Benefits of Automated Timetracking
Timetracking has been around forever – and for good reason.  If you're paying for someone else's time, as a client or employer, or if you seek to improve a workflow, there is really no alternative to somehow documenting what actually happens in your business.
But even though just about every office worker is either an employee or a person working for their clients, and – in an ever more competitive world – most everyone has an interest in increased efficiency, some dazzling questions remain:
Why are timesheets not everywhere, but mostly limited to professional service firms?
Why does not every CEO keep timesheets

along

with their team?
And if so much money is spent on productivity tools, why is no one looking at what people actually do?
The reason is that, until recently, keeping timesheets has been an enormously difficult and manual task. But here lies the opportunity for automated timetracking. It modernizes this essential practice, making it less burdensome and more accurate.
Only professionals like lawyers, consultants, accountants, all of whom make a lot of money from recording all their activity, voluntarily engage in timetracking.
A high-powered CEO would never pick up a pencil and tediously document his day.
And spoiling your team with a new software tool that promises to be the answer to all productivity problems is just a lot easier than making everyone record their activities, analyze them and implementing actual workflow changes.
Claim your AllActivity
software demo
Ask for a complete 2-month free trial and start achieving better results from the beginning!
But not all hope is lost.  In fact, in recent years, tremendous progress has been made to assist freelancers, SMEs and large organizations with keeping track of all team activity.
Here's the definitive list of options available today:
Paper Timesheets (Yeah, if you're really old school.  Everyone gets a stack of preprinted timesheets, to fill in daily tasks and the time spent on them. Secretaries type up the timesheets later.)
Online Forms (Similar to paper timesheets, but users type their notes into the PC,and you save on the secretaries.)
Online Stopwatches (Same as online forms, but instead of making up typing the task duration, users start & stop a time for each task.)
Automated Activity Trackers (Everything's recorded automatically, private stuff is ideally* filtered out and … presto! … a perfect activity record)
* not all automated activity trackers protect users' privacy.
Check the specifications, if this is relevant for your team.
But you didn't come here to read just what is possible.  You want the definitive ranking of timekeeping options!  And we are ready to give it to you…
And we have a winner!
No surprise, when it comes to the number of activities recorded in your timesheet if you compare the four methods:
Whether you record your activity on a paper timesheet, or fill in an online form, including with a stopwatch, you will never – realistically – get more than 10-20 entries per day.  Requiring your team to record all tasks "in 6 minute-intervals" may be an honorable endeavor, but good luck achieving anything like an 80 entry-per day record in this way.
Automated tracking is entirely different.  Depending on your chosen tool's technical specifications, you can easily get a timesheet with a hundred times more entries than with any other option.
We'll deal with accuracy in another chapter below, but even looking at the number of entries only, it's clear as day that the amount of data lost with any form of non-automated activity tracking is enormous.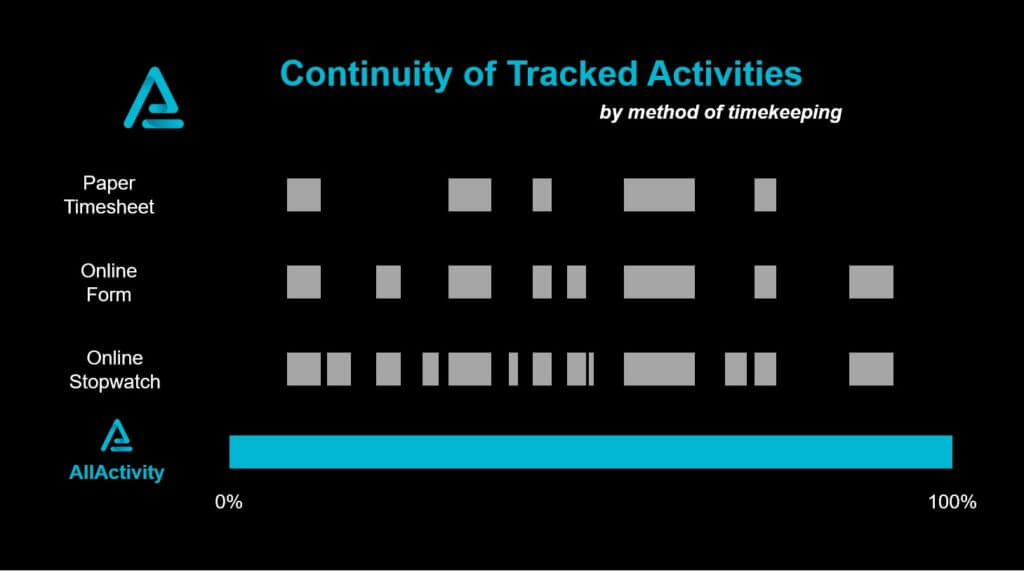 Gaps, gaps, everywhere!
If you rely on yourself – or your team – to manually keep track of all activity throughout the day, you cannot avoid a timesheet with gaping holes in it.  People forget to record tasks they work on, and what you end up with is an incomplete record at best, and a useless "timesheet" with just a few tasks recorded at best. This is where automated timesheets come into play, helping to ensure that every minute is accounted for without requiring constant manual input.
Switch to automated timetracking and all that changes for the better! From the moment the PC/Mac is turned on, to the moment you turn off your device and leave for the day – and beyond* – all activity will be logged and there is concern that anything at all will be lost.
* Some automated activity trackers even offer mobile apps
that let users build a continuous 24 hour-record.
Again, a clear winner, if you ask us.  But let's check out tracking accuracy below and see if there is, in fact, an option superior to automated time tracking.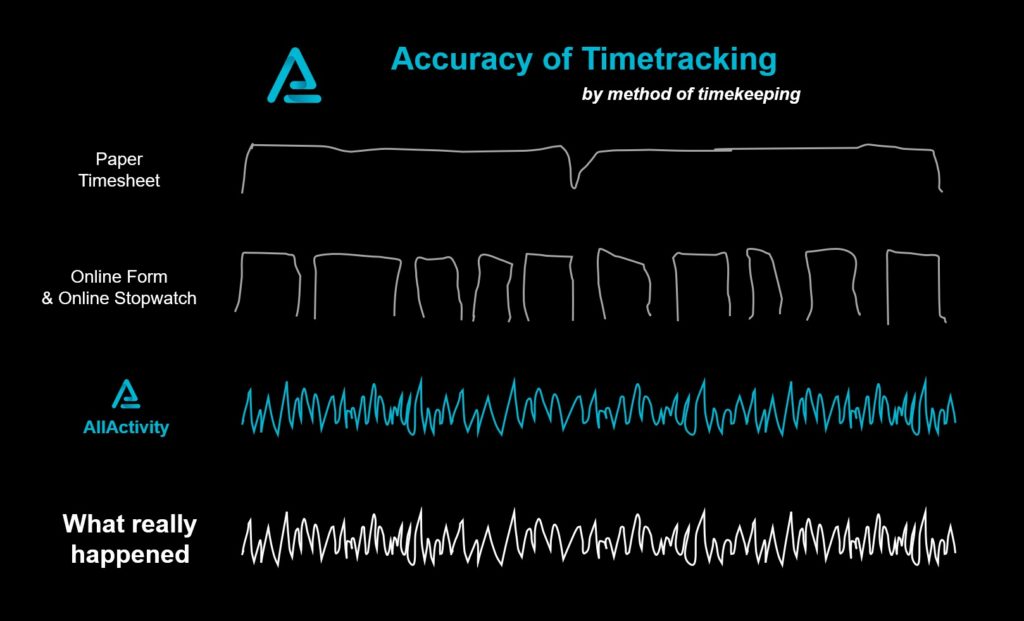 Let's ask the tough question: how accurate is your timekeeping?
If you let yourself, or your team, keep a time record manually – no matter if they use paper & pencil or an online glorified stopwatch -, any such timesheet is bound to be filled with errors:
Employees will forget tasks they worked on;
Break will get dropped;
Lawyers (and others) will inflate their hours; and
Inefficient task completion will be hidden by recording shorter durations than actually occured.
Enter automated time tracking.  You guessed it: any automated activity tracker is bound to record all activity, not only in extreme detail, but accurately.  Nothing gets lost, and nothing gets added that shouldn't be there.
Automated activity tracking is not an option, it's a must.  If you are managing just yourself – or a brigade of office workers – give one of 'em modern timetracking tools a try.  If you ask us, AllActivity would be a good place to start.
AllActivity is about to take off!
Be the first to know when AllActivity launches and get your hands on special offers, news, and updates!
Whenever you're ready…here are 4 ways we can help you increase your productivity, lifestyle & health by embracing automation:
Claim your AllActivity Software Demo. Ask for a complete 2-month free trial and start achieving better results from the beginning!
If you'd like to learn how automation and task mining can take your team or organization to the next level, go to our blog or visit our Task Mining section, where you can find our lifestyle calculator and find out how to be more efficient!
We are hiring! If you are passionate about coding, enjoy new challenges and working in an international team, we are looking for you!