Productivity | 5 min read
7 Productivity Hacks That No One Likes To Talk About at Parties
If you're like us, you've read all the blog posts and bookmarked all the infographics. Please, no more
"Schedule a 5 minute break every hour"; or
"Distinguish urgent from important".
Time to get original and radical, and time to shave, let's say, two hours off your workday.
Ready for it? Let's do it! Here is a sneak peek into your future of productivity
Claim your AllActivity
software demo
Ask for a complete 2-month free trial and start achieving better results from the beginning!
1. Limit Calls & Meetings Drastically
We mean it: don't take prisoners when it comes to cleaning your schedule from calls and meetings. Meetings made sense when grandpa Neanderthal explained the dangers of free-range chicken wolves. But nowadays, calls and meetings are justified only when the whole point is to engage in person. (But that's called "dating" or "Thanksgiving", and that's is not the focus of this article.)
In business communication, there can be no doubt that two things matter most:
instantaneous feedback (often); and
a written record of the exchange (always).
Throughout history, it was painfully slow to both prepare and deliver written messages. Fax, letters, you name it. When it comes to speed alone, you could rank written communication a solid 0 out of 10.
As a result, if you wanted to get an answer back immediately, you had to resort to calls or meetings. These offer the benefit of immediate feedback, that's a 10 out of 10. But check out the two most devastating drawbacks of calls and meetings:
meeting participants need to react instantly, but most people don´t think fast. It comes as no surprise that the thinking part is then often left out entirely. Calls and meetings are thus reduced to oral exchanges of generally recognized vowels and consonants. Sadly, they don´t exactly rise to the level of bankable content; and
because the quick back and forth is so important, there is no time to draw up proper written records. It´s not only about summaries of what has been "decided" – those protocols sometimes do exist. What is missing in all cases are records of how a group arrived at a decision. This eliminates any chance of revisiting and improving arguments and thought processes later. And we´re not even mentioning improving the decision itself.
Enter computers and smartphones: in today's world, if you want written communication to be synchronous, it can be! Both the preparation and the delivery of written messages take only slightly longer than having a conversation. That´s when 10 finger-system, shortcuts, speech-to-text, 5G networks come in handy.
At the same time, you can pause and think whenever you want, as a natural part of crafting a well-structured, written message. You can even delete and take back some non-sensical statement you almost sent – which you can't in a meeting.
Besides the need for social interaction, there´s literally no reason for conducting calls or meetings. Like, ever.
If you´re still not convinced or can´t avoid them entirely for other reasons, read on for 6 more pro tips on how to stay sane despite calls and meetings hijacking your agenda.
2. Never Accept Undetailed Meetings
We´ve all been there. You´re invited to a meeting. You know the start time and the proposed meeting length. But other than that, you´re left in the dark about what that one-hour get-together will actually be for. The best you can hope for is often a few keywords like "sales squad call", or "marketing initiatives meeting". Expecting an agenda? Think again. Agendas are hard planning work and people will avoid them at all cost:
They are hard to come up with, requiring foresight and discipline. Doesn't sound like fun.
Even worse: they call for authority or social capital to enforce. Again, not a very attractive prospect.
The disaster of agenda-less meetings starts with late arrivals. If the first 5-minute slot is not reserved for an important item, be sure that half the group arrives 4 minutes late. Do the math! In an 8 person-meeting, we just wasted a total of 20 minutes.
To avoid that, make the first 5 minutes count. That slot could be reserved:
to assign moderator roles for sub-topics;
notetaking responsibilities;
screen sharing privileges or other procedural rules that can impact the meeting quality; and
allow or forbid people to parade their egos and share their wisdom. Latecomers forfeit the right to participate in these early discussions.
Detailed agendas also prevent that awful practice of getting one's act together only halfway through the call or meeting. How much time is lost when people forget that one, relevant document, try to retrieve it from cloud storage, only to realize they can´t even screen share it? How often were we all kept waiting for five cross-talking team members coaching a junior through some basic IT challenge? While it may be impossible to have perfect calls or meetings, an agenda will mitigate those issues beforehand.
Dare to make your expectations for a detailed agenda and efficient planning very clear! You'll be surprised how most people will really try their best to not waste your time. Once you've made it clear that rambling on about "What do we talk about next?" is prohibited, people will quickly become laser-focused on getting things done. We often notice how completing the agenda in the allotted time becomes a team challenge that everyone enjoys contributing to. Productivity tips like these are instrumental in fostering such an environment.
Do you have passive, perhaps more junior participants just tagging along to a call or meeting? As a bonus, watch them blossom when given the chance to prepare for specific agenda items that are shared beforehand. In other words, agendas
put an end to people's excuses for not being prepared; and
create new opportunities to showcase one's ability to contribute.
Everybody wins!
3. Be the Meeting Organizer
Your meeting, your rules. If you are the organizer, you get to control. Or, at least, strongly influence every relevant parameter: start and end time, location, technology, participants and their roles, and, of course, the agenda. It's beautiful!
Now imagine the opposite: someone else simply imposing themselves on your calendar. You've probably stopped counting the number of times you received the following email: "I blocked two hours in our calendars for a meeting. I'm sure we'll have plenty to discuss." Gets you every time, doesn't it?
There's no better way to avoid "death by meeting" than to avoid meetings and calls entirely. But if you can't do without, make sure you are the one in charge. And once you assumed power, exercise it with care. Force people to prepare, make them show up on time, coach them on technology or, at the minimum, help them help themselves.
And here's an interesting twist: if you're in charge, there's nothing that prevents you from moving up a meeting if need be. Sounds counter-intuitive? It's not! Often, the best way to avoid an inefficient, rambling session in a large group is to assemble a small group of efficient, quick-thinking ninjas with decision power and simply get sh*t done. Beat them at their own game and kill the awful meeting with a great one!
You have nothing to lose in taking charge of organizing the next call or meeting. So make the most out of it and live up to your meeting manager potential! Productivity tips can be your secret weapon in this endeavor.
4. Highjack the Scheduling
Every so often, before you achieve world domination, you might realize it's impractical to try and organize the entire meeting. You've realized there's no chance anyone will stick to your Besides, leaving certain people off the invite list would be career suicide. So, what do you do?
Turns out there is one element of meeting organization you can probably always highjack. Luckily, that element is also disproportionately valuable. The secret is setting the start and, most importantly, the end time.
Thanks to a combination of bad UX, computer illiteracy, and business customs, not only do most calls and meetings start with "reserving a slot in the calendar", but the scheduling task is also often left to the juniors. Ha, let's exploit that!
By being tasked with sending out the meeting invitation, you get dramatic control over a lot of people's schedules, including your own! That is, even if you have no right to ramble (which your superiors or clients will do with delight during any meeting).
Most people Everyone schedules meetings with a default length of 30 or, even worse, 60 minutes. Don't! Instead, go with a default meeting length of 10 or 15 minutes.
Remember your last 30-minute conference call? Simon was 4 minutes late, Meg had forgotten the file she needed to prepare, which took another 5 minutes to find it. Another 6 minutes were spent on Marina's tale of a weekend spent camping. And when you finally settled on the agenda, 15 minutes had passed. In essence, you were left with 15 minutes but – lo and behold! – the group did indeed manage to finish on time.
The conclusion is obvious: if a 30 minute-meeting can, in fact, be completed in 15 minutes, why not schedule only 15 minutes in the first place? You will be surprised how a very short slot will instantly get people to focus. Instead of "How was the weekend?", your calls will start with "Since we only have 15 minutes, let's get right to it!".
Try it, and in no time at all, you will be recognized as the leader in efficiency that you are! Productivity tips like these can transform how meetings are conducted in your workplace.
5. Always Mute Your Phone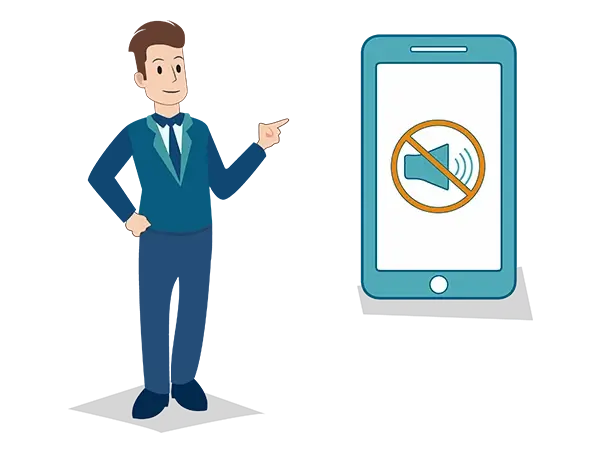 You're sitting at your desk, concentrating and trying to save the world with whatever is keeping you busy. Suddenly, your phone rings.
On average, unscheduled interruptions take up to 25 minutes for you to regain the focus on your original task. . 25 minutes! And why is that? Because the moment you hear your phone, you somehow have to deal with it:
Do you take the call and risk being distracted entirely? Do you not take the call, but send a friendly text message that you will call back? Do you not send a message, but make a note in your calendar to call back later? Do you not make a note but write an email explaining that you are not to be called without advance scheduling? Do you just try to ignore the call and feel bad for the next hour, fearful of forgetting to call back or the phone ringing again?
In short: allowing your phone to ring is a lose-lose proposition. If your office was bordering your company's social area, would you leave your door open? Or would you not rather nail it shut, only to open it on your own terms when you are done with your work?
If your phone's on mute, it will serve as a wonderful ID collector of people who need to speak to you. Or rather: needed to speak to you. Or rather: who thought they needed to speak to you. Get the idea? Calls are to be avoided entirely. Your mission is to help the world realize it is much better to collect their thoughts, phrase a concise question and send an email, instead of picking up the phone and interrupting other people's days.
6. Never Answer Unscheduled Calls
Phone muted or not, never accept an unscheduled call (related to work).
Most unscheduled calls interrupt something else. But even if (you think) they don't, they are hazardous for people seeking to take charge of their life:
First, they obviously foster bad habits of the person calling. How can we expect people to call less if we feed their guilty pleasure by answering the phone in the first place?
Second, even if you're not in the middle of focused work, accepting unscheduled calls still poses two problems:
Either they interrupt what should be leisure time, rising to the level of a lifestyle hazard;
Or you're at work anyway and in a state of mind where you tolerate being interrupted. However, that simply means you're not focused enough. You should never be open to interruptions. Accordingly, telling yourself "It's ok that I took this call, I made good use of my time this way." only paints over the fact that you were not being as focused as you should be when the call occurred.
Trust us, it is OK not to answer the phone. The working world will be better for it.
7. Mandatory Written Follow-Up
In the previous chapters, we strongly recommended training the world around you not to engage in calls or meetings in the first place. A recurring question then becomes: "How do I do that without risking a conflict"?
Here's your solution, which we have successfully applied for several years. Always end a call or meeting, which we will assume the other person initiated, with a polite request to follow up in writing. This is one of the simplest yet most effective productivity tips we can recommend.
If the call or meeting was a request for you to do something, that's the most obvious thing to ask for: "I want to make sure I don't forget exactly what you need. Please send me a quick email with the task description." We guarantee they will never bother you again and will have learned to email you instead. The key is to do it two or three times with the same person. It's like training monkeys!
The request for a written follow-up works wonders when someone tries to retrieve a piece of information from you as well. If you're so inclined, you can even ask the caller or visitor to repeat the same question he just asked by email, "so I can make sure you have it in writing". Alternatively, ask them to email you when they need the next status update/detail/whatever, so you can plan and execute a perfect delivery. They will get the message.
Ridding the world of plastic, calls and meetings takes effort, but it's doable! As with plastic, prevention comes first. But there's plenty of things you can do if a call or meeting made it into your calendar. Apply any of our 7 pro tips and, by all means, share with like-minded people. (Don't call, just send them a link.)
AllActivity is about to take off!
Be the first to know when AllActivity launches and get your hands on special offers, news, and updates!
Whenever you're ready…here are 4 ways we can help you increase your productivity, lifestyle & health by embracing automation:
Claim your AllActivity Software Demo. Ask for a complete 2-month free trial and start achieving better results from the beginning!
If you'd like to learn how automation and task mining can take your team or organization to the next level, go to our blog or visit our Task Mining section, where you can find our lifestyle calculator and find out how to be more efficient!
We are hiring! If you are passionate about coding, enjoy new challenges and working in an international team, we are looking for you!
Here are a few articles
you will also like: