Privacy in Task Mining: Analyze Workflows Without Freaking out the Team
Most managers with an interest in automated workflow analysis – aka process or task mining – sooner or later face the million dollar-question:  Where do you draw the line between simply logging all activity in your business, and outright spying on your team? And even if I have the best intentions, how do I get the team on board and prevent a revolution?
If you believe that workflow mining could benefit both you and your colleagues, keep reading for four great ways to minimize team friction and get your entire team to sign up.
Claim your AllActivity
software demo
Ask for a complete 2-month free trial and start achieving better results from the beginning!
1. Give them (Personal) Space
There is no value in simply tracking and sending all employee activity logs, whatever they are, to management. Not only would employees  understandably be concerned about their privacy, but dumping such raw data on managers would completely overwhelm them. After all, what manager really has time to sieve through his colleagues' amazon shopping sprees (everyone does it at work) or emails with their kid's math tutor?
The tech solution to this challenge is simple: pick a tool that grants employees their own personal space, into which all activity data is first uploaded. In this way, employees get to decide themselves:
It's a win-win situation with tremendous benefits:
Which leaves only one question: why use an automated activity tracker in the first place?
The answer is simple: any manual timesheet, even if it's a fancy online form, will only yield incomplete and error-prone data, with at best 15-20 entries per day. By contrast, automated tracking tools, capture up to 6,000 data points per day, which takes your ability to task-mine effectively to an entirely new level.
So, you've mastered the first step and picked a software tool that lets employees filter out their private data before sharing work records with the team.
But even if the data made available to management does not contain any private activities, analyzing activity logs associated with individuals is so powerful that risks of data abuse might remain.
A simple example illustrates the dilemma:
In short, any business seeking to roll out a workflow analytics tool must exercise utmost care to protect against such abuse. In our opinion, it is not enough to rely on the integrity of your managers. The only way to really protect your team is to pick a tool that takes technical precautions.
3. Dig Down on Anonymous Data (Within Limits)
If your software tool treats personal data properly, that's only the first step.Process mining is all about big data and dissecting it for the benefit of both the business and your team member.  This is why the best activity trackers also let businesses explore a treasure trove of anonymous data that truly reflects all activity.
But similar to the handling of personalized data, which is a lot more sensitive to begin with, even 100% anonymous data must be handled with care. The reason is that a data point that has been digitally anonymized might not be anonymous at all when combined with other, offline data.
Take, for example, an employer who explores the time, number and duration of breaks that her team takes during the day. If you only look at anonymized data, that's an innocent and worthy undertaking. Insights can help with taking specific actions to improve the team experience, which in turn benefits employees' lifestyle and overall productivity.
A problem arises, however, if the underlying data is derived from a sample of employees that is too small to really prevent conclusions to be drawn on individual team members.
As with the handling of personal data, if you want to introduce workflow analytics to your business and still keep employees happy, it is important to choose a software tool that truly understands the danger of privacy infringements and implements technical safeguards against them.
4. Share Insights With Your Team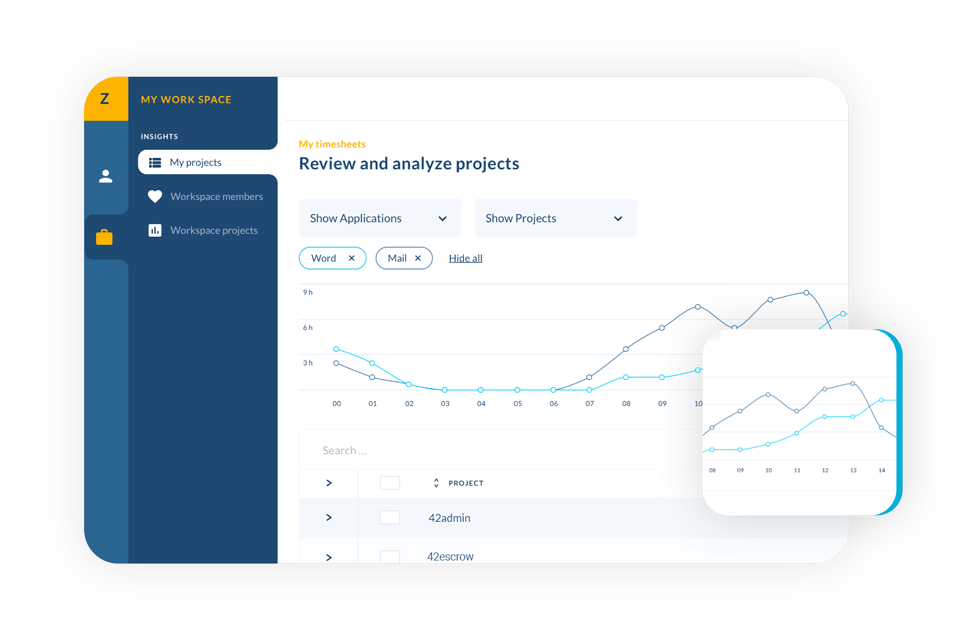 The final element in keeping your team happy and engaged in your organization's task mining efforts is to let them share in the benefits.  This means that dashboards with insights into work activity should not be limited to only management.  Instead, every team member gets access to a treasure trove of analytics that lets employees assess their own performance and take corresponding action.
The advantages of this approach are twofold:
It goes without saying, but in order to get your task mining-project off the ground, pick a software provider that is trustworthy, and puts privacy and security front and center in all they do.
Below is a quick chart comparing a few popular tools that could help you choose the best one for your business.
| | AllActivity | Microsoft Viva | Activtrak | Rescue Time | Celonis | Chrometa |
| --- | --- | --- | --- | --- | --- | --- |
| Ease of usage | | | | | | |
| Task mining | | | | | | |
| Free trial/pricing | | | | | | |
| Privacy | | | | | | |
| Provides solution | | | | | | |
AllActivity is about to take off!
Be the first to know when AllActivity launches and get your hands on special offers, news, and updates!
Whenever you're ready…here are 4 ways we can help you increase your productivity, lifestyle & health by embracing automation:
Claim your AllActivity Software Demo. Ask for a complete 2-month free trial and start achieving better results from the beginning!
If you'd like to learn how automation and task mining can take your team or organization to the next level, go to our blog or visit our Task Mining section, where you can find our lifestyle calculator and find out how to be more efficient!
We are hiring! If you are passionate about coding, enjoy new challenges and working in an international team, we are looking for you!